Benefits of Driving an EV in Florida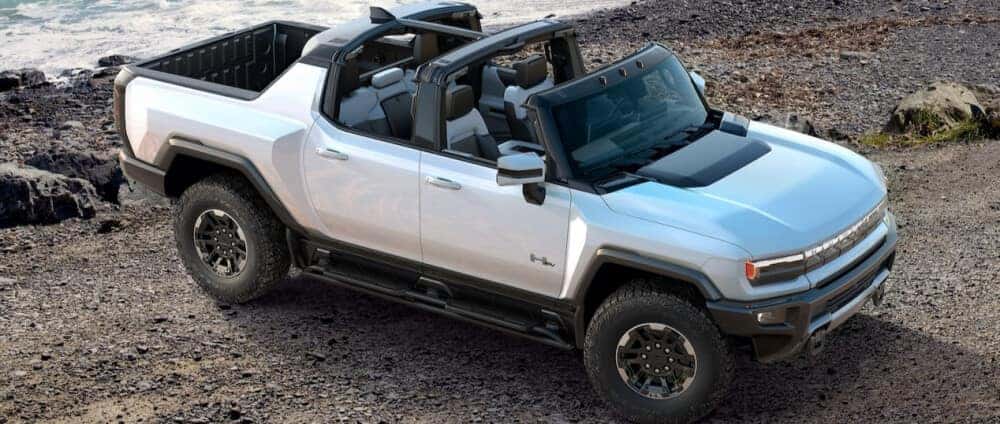 Inverness and Hernando Beach car shoppers are noticing how many car manufacturers are making the switch to electric vehicles and electrified vehicles. As is the case with the progression of other technologies, only time will tell what type of cars dominate the roads of Brooksville in a half a century. Even now, an increasing number of people are coming to us wondering, "Should I switch to an EV?" The fact is, for many people, the answer may, surprisingly, be "Yes!". In fact, there are many benefits to driving an EV like the new GMC Hummer EV in Florida. Keep reading to learn more, and don't hesitate to contact us with questions!
Types of EVs
We don't mean to get too technical, but before our discussion of why you should buy an EV, we'd like you to know more about what kinds of EVs are available to you since many people use the term "EV" somewhat loosely. Knowing what kinds of EVs there are is crucial to understanding their respective benefits:
Standard EVs or "BEVs"

: Standard pure electric vehicles — think the Tesla Model S or GMC Hummer EV — is what most people mean when they say they're interested in buying an EV. They're powered purely by battery packs, hence "battery electric vehicle" or BEV.

Hybrid-Electric Vehicles, or "HEVs"

: Hybrid electric vehicles, or "hybrids" use gasoline and battery power, either separately or in tandem, to power the drivetrain. The gasoline powertrain and other technologies like regenerative braking act to recharge the battery, meaning no recharging is necessary.

Plug-In Hybrids, or "PHEVs"

: These types of vehicles use a battery pack for a certain amount of time and then, once it's depleted, switch to gasoline power. They require recharging.
Benefits of Driving an EV in Florida
EVs make no emissions.
There are no fuel consumption costs with EVs and a full charge often costs a few dollars rather than a few dozen dollars (i.e. single vs. double-digit costs).
In Florida, you can use the High Occupancy carpool/HOV lane whenever you like—even when you're the only person in the car. You just need to procure an HOV decal from your local DMV.
Green vehicles can also save you time, as they're exempt from emissions testing at the Florida DMV.
Many insurance agencies offer electric car incentives of up to 10% for EVs in Florida.
Average lifetime maintenance costs are $4,600 compared to $9,200 for gas vehicles.
Up to a $7,500 federal electric car rebate if you purchase an EV.
If you're looking to make your Florida business more environmentally friendly, then you can take advantage of rebates like the natural gas fuel fleet vehicle rebate, commercial electric vehicle charging station rebate, and Florida's electric vehicle supply equipment financing.
If your vehicle has a battery capacity of fewer than 15 kilowatt-hours (kWh), you could be eligible to receive a $500 credit.
PHEV green vehicles with larger battery capacity are eligible for up to $1,000 in Florida.
Purchase a new or pre-owned PEV model in Florida, and you're eligible for an Orlando Utilities Commission credit.
Updated Terms and Conditions for the Federal Electric Car Rebate
You've probably heard that there's a Federal rebate for electric cars valued up to $7,500. That rumor is true! However, the Inflation Reduction Act has recently passed and the terms and conditions of Federal electric car incentives have changed. Take a moment to learn about the changes to the Federal electric car rebate below:
The Federal rebate for electric cars is now valid through 2032.
Any used EV that has been purchased after Dec. 31, 2023, is good for up to $4,000 in Federal electric car rebates. However, used vehicles must be at least 2 years old, and can't cost more than $25,000.
While the government stopped dispensing rebates for EV models after 200,000 units were sold, this cap has been removed.
However, there are new stipulations aimed at bringing manufacturing back to North America. All qualifying EVs must be assembled in North America.
There are also new rules about battery construction. Now, 40% of battery minerals must be sourced in North America or a country with a free-trade agreement with the United States. This percentage will rise to 80% by 2027.
Also, 50% of other battery components must be sourced from North America, and 100% by 2029.
Vehicles that fail to meet requirements will still be eligible for partial Federal electric car rebates, but the value of their electric car incentives will reflect their degree of compliance.
These stipulations don't apply to used vehicles.
Finally, individual households making over $150,000 and married households making over $300,000 don't qualify.
Learn about the Upcoming 2022 GMC Hummer EV 
GMC is releasing a fully-electric Hummer EV for both Pickup and SUVs. The GMC Hummer EV will offer Spring Hill drivers over 300 miles of range for the SUV, over 350 miles of range for the Pickup, semi-autonomous driving technologies, and extreme off-road capability. To learn more about the upcoming Hummer EV, call Buick GMC Brooksville at 352-309-2052 to learn more, and in the meantime, take a moment to explore our new vehicle specials to see how much you can save on the current lineup of Buick, and GMC models in Brooksville!
Infinity roof with modular sky panels

Up to 11,500 lb-ft of available torque

Specially engineered 35″ tires

12.3-inch diagonal color Driver Information Center display

13.4-inch center-mounted diagonal color touch-screen

Full under-body armor

Bose 14-speaker audio system featuring Centerpoint®
Learn More About Electric Car Perks with Buick GMC Brooksville
Ready to learn more about the unique benefits of buying an EV in Florida like the GMC Hummer EV in your unique case? Buick GMC Brooksville is here to answer all your questions! Meanwhile, if you're ready, we invite you to view our new vehicles online to find something you like and then apply for financing.